Sunrooms are a versatile addition to any home. Many homeowners who add a sunroom to their home daydream of basking in the natural light and serene ambiance it provides. However, homeowners frequently find themselves unable to fully enjoy their sunroom as they intended, primarily because they haven't been able to transform it into the oasis they envisioned.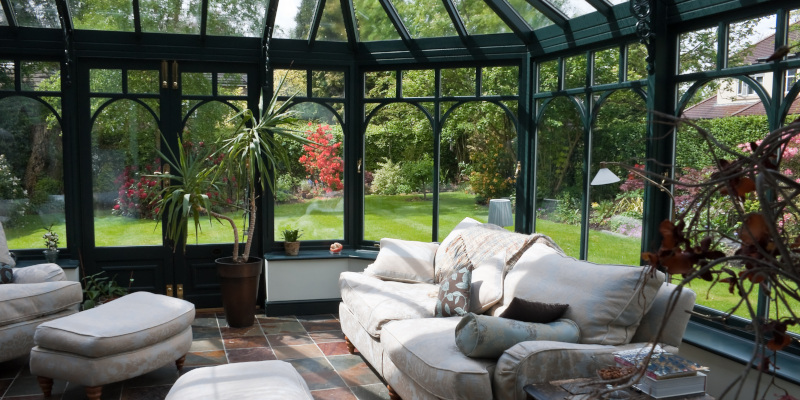 Luckily, with just a few steps, you can create a tranquil oasis in your sunroom. Here's how:
Choose the right glass option for your sunroom. You won't want to spend much time in your sunroom if the glass elements aren't properly insulated or UV-protected. If temperature and direct sunlight inhibit your sunroom use, our glass options can help! Give us a call, and we can guide you to the best glass option for your sunroom.
Accentuate natural elements. Natural beauty is likely the first thing that comes to mind when considering what you want to enjoy in your sunroom. Bring those elements in through house plants and décor accents that speak to your natural aesthetic tastes.
Position your furniture with the sun in mind. While sunrooms are meant to provide ample sunlight, no one enjoys the direct glare of the sun shining right into their eyes. If uncomfortable sunlight has kept you from enjoying your sunroom, simply rearranging the room may take care of the problem. Observe the sun's position in your sunroom for a day to determine the ideal furniture setup. Keep in mind you may need to rearrange your sunroom as the seasons change.
Consider privacy needs. Sunrooms provide a tranquil connection to the outdoors, but if you feel on display to your neighbors, you might avoid your sunroom. If privacy is an issue, consider internal and external solutions. Adding tall shrubbery outside or hanging curtains on the exposed side of your sunroom could do the trick.
It doesn't take much to get the most out of your sunroom. With these considerations, you'll create the tranquil oasis you dreamed your sunroom would be!